If you're looking for a great camera to take on your next family vacation, I highly recommend the Fujifilm X100V.
This camera is small and lightweight, yet it still offers excellent image quality. I've taken this camera with me on several trips now, and I've been extremely pleased with the results.
In this blog post, I'll share my thoughts on the Fujifilm X100V, and I'll also show some of my favorite photos from my recent trip with my wife and friends to the Amalfi Coast, Italy.
A Few Photos That I Took With My Fujifilm X100V During My Trip to Amalfi Coast, Italy
Below are some of my favorite photos that I took during my trip to the Amalfi Coast in August 2022.
Before I bought the Fujifilm X100V, I used to take photos with my Sony A7III mirrorless camera.
Sony A7III is a great camera, however, during one of the family holiday trips, I noticed that there have been times when I didn't bring it with me because it was too heavy and bulky to carry around. As a result, I missed quite a few opportunities to take memorable family photos from that trip.
After this vacation, I realized that I wanted a digital camera to document everyday moments as well as future trips with my family and friends. The camera had to be compact, lightweight, and stylish (something similar to how Leica cameras look like).
After doing some research I stumbled upon a Fujifilm X100V digital camera. I immediately fell in love with its classic design reminiscent of film cameras. The only aspect that bothered me at first was that this camera has a fixed 35mm format equivalent lens.
However, after watching countless video reviews on YouTube, I finally made my decision to buy Fujifilm X100V digital camera.
What do I like about my Fujifilm X100V?
Image Quality
I must say that I am extremely happy with the quality of the photos that I get from my Fujifilm X100V camera. The photos from this camera are sharp, the colors are beautiful and vibrant.
Unlike many other Fujifilm users who prefer to shoot their photos in JPEG with Fujifilm's integrated film simulations, I shoot all of my photos in RAW. This allows me to have more precision and control over the final result that I get by working on my photos in Adobe Lightroom.
Continue reading and I will show you my post-production process in Adobe Lightroom.
Recently, I have been using the Classic Chrome V2 simulation on my RAW photos and editing them with that simulation applied. I really like the outcome I get by applying this simulation to my photos and adjusting a few things here and there afterward.
Camera Design
Honestly, at first, I wanted to put Camera Design as the first and most important point that I like about my Fujifilm X100V camera. Not only does this camera look amazing, but it also makes you want to take it with you whenever you go out and shoot.
The camera's overall aesthetics, including physical dials, make the experience of shooting with this camera very enjoyable. The tactile feeling you get when changing aperture, ISO, and other settings is just incomparable to any other camera that I've used before.
It is also important to mention that there are a lot of different accessories on the market for this camera that make it easy to customize its design and make it even more appealing and personal.
I personally use a lens hood and a soft-release shutter button in red color from Squarehood. These two small accessories add to the already beautiful design of the Fujifilm X100V camera and make it look even more stylish, plus the lens hood protects the lens from scratches and accidental damage.
Form Factor
As I have already mentioned, Fujifilm X100V is a very compact and lightweight camera, especially compared to my Sony A7III.
For me, it is a very important factor because I can take this camera with me on a daily basis simply by throwing it into my backpack. It is also very comfortable to travel and walk around with this camera during family holidays.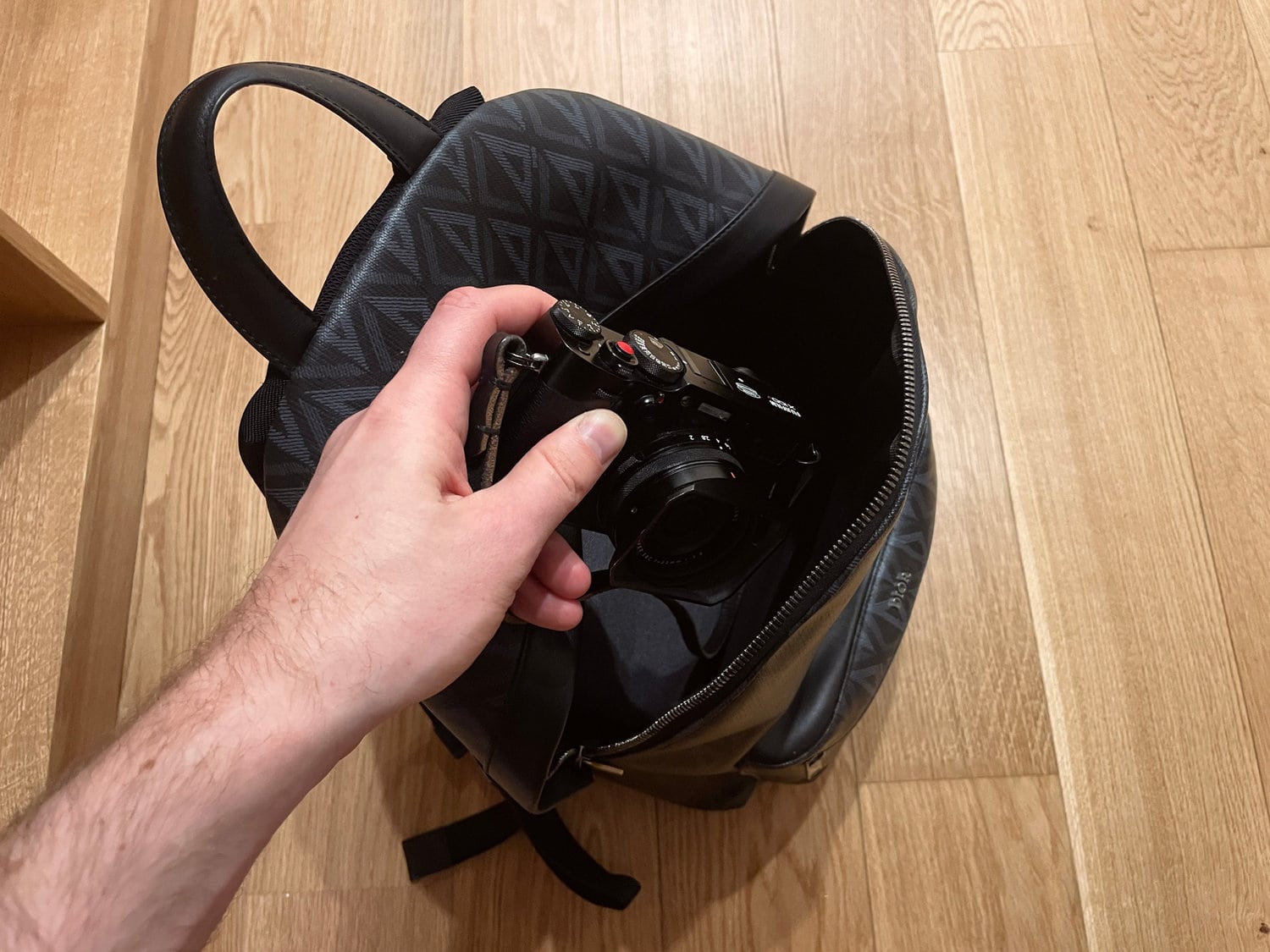 I have noticed that after I switched from Sony A7III to Fujifilm X100V I've started to take many more family photos and unforgettable memories.
What I don't like about my Fujifilm X100V?
To be frank I can't even think of something that I don't like about this camera. The only thing that could potentially be improved is Fujifilm's autofocus system. It is by no means bad, in fact, it is very good, but compared to my Sony A7III is just a little bit less precise.
However, these are two completely different cameras made for entirely different purposes so I guess it is unfair to compare them together.
Other than that, the camera is just so great that I honestly can't say anything bad about it!
Is a Fixed 35mm Lens Good for Family Holiday Photography?
The short answer is yes, a fixed 35mm lens is great for both portrait and family holiday photography. The 35mm lens will let you capture stunning portrait shots and wide-angle landscape images of the breathtaking destinations that your family visits on their holidays.
However, I must admit, before I purchased this camera I was a little bit worried that it's fixed 35mm focal length lens might restrict my photography since I had mostly used a 28-75mm TAMRON zoom lens.
But after shooting with the Fujifilm X100V for a few weeks I realized that 35mm is actually a perfect focal length for family photography, holiday photography, and photography in general. 
Although there are limits to a fixed 35mm lens, you can easily surpass them by using your – yep, you guessed it – legs. In fact, I think that Fujifilm X100V's fixed 35mm lens made me more creative with my photography and taught me to think differently about the composition of my shots.
With a fixed 35mm lens, you won't be burdened with the tedious task of selecting and swapping between various lenses in order to capture that perfect shot. Instead, you can focus on what truly matters: seizing those one-in-a-lifetime moments!
Do You Need the Latest Digital Camera to Take Great Family Holiday Photos?
Absolutely not! You don't have to have the latest digital camera to take great family holiday photos or any other photos.
People often wrongly assume that if they buy the most up-to-date and expensive camera, their photography skills will automatically improve. It just doesn't work this way.
In order to capture stunning family holiday photography or any other photography, you need to learn the basics of photography (the exposure triangle: aperture, shutter speed, and ISO), as well as photo compositions, how the light works, and many other aspects of photography.
You can learn all of this with any camera, even if it's not the latest and greatest one. Once you have learned the basics of photography, you will be able to take beautiful photos with whatever camera is available to you.
Bottom line: Invest in learning the basics of photography, instead of buying the latest and most expensive camera.
I'm currently working on a photography course for people who want to master taking stunning photos of their everyday moments using the cameras they already own.
If this course sounds like something you would be interested in, don't hesitate! Enter your email below to get notified as soon as the course is available.
How I Edit My Photos in Adobe Lightroom
As I mentioned previously, I shoot photos in RAW format and I edit all of my photos in Adobe Lightroom.
Many people on Fujifilm's Reddit community have requested me to demonstrate the exact settings I used when editing some photos from my latest adventure in Italy.
As a response, I've created an instructional video where you can watch how I edit four separate pictures that were taken during the trip to Amalfi Coast.
If you'd like to watch this video, simply enter your email below and the system will automatically send you a welcome email with the link to that video.
My Lightroom Editing Process
A step-by-step video tutorial (25 minutes) showing how I edit my photos in Lightroom
Photo Books – Lasting Memories in the Digital Age
One of the things that I like the most about photography is that it allows me to create lasting memories of all the wonderful experiences I have had in life.
After each family holiday, I usually spend time going through all the photos and selecting the images that tell the story of our trip – my favourite moments, emotions, and places we visited.
Then I turn to a service called Blurb for creating photo books of the highest quality that will surely leave a lasting impression.
Blurb is an online platform where you can easily design professional-looking photo books, wall art, magazines, and other products. They offer a wide range of templates and tools to help you craft stunning memories with your photos.
If you want to save your family holiday memories, I highly recommend investing in a high-quality photo book.
Conclusion
I hope this article gave you some useful insights into family vacation photography and what it takes to capture stunning images of your everyday moments with Fujifilm X100V.
Invest in learning the basics of photography and don't forget to create lasting memories with your photos – a photo book will do just the trick!
Happy shooting, everyone!