Imagine a co-adventurer in your photographic journey – someone who shares your passion for the frame but also pushes you to innovate, inspires you to perfect your photography craft, and saves the day with an extra SD card when yours fails. A photography community can be even better!
A photography partner can turn each photoshoot into an event that's twice as enjoyable and fruitful. And let's face it, having someone to share the laughs, frustrations, and inspiring moments with makes the entire process even more rewarding. 
So let's uncover some indispensable tips to find photography friends.
In This Article You Will Learn:
Why is it Important to Find a Photography Buddy?
So why can having a photography partner be so advantageous? Looking for photography buddy can be essential to your artistic growth and well-being. 
Here are a few ways they can make a difference:
Creative Collaboration:

Two heads are often better than one, that's why photography communities are so prevalent. Your partner can provide a fresh perspective to scenes you may not have noticed, and you can bounce ideas off each other for creative compositions.

Skill Sharing: Each photographer has a unique set of skills. One might be excellent at photo editing, while the other excels at

shooting in manual mode

. Sharing skills can lead to mutual growth.

Motivation:

Let's be honest; there are days when the creative juices aren't flowing. Having someone to encourage you can make all the difference in getting out there and shooting.

Safety and Convenience:

Whether exploring urban landscapes or wandering in the wilderness, having a partner can provide an extra layer of safety. It's also convenient for someone to watch your gear when you need to step away.

Emotional Support:

Photography, like any other art form, has its ups and downs. A buddy can offer emotional support and encouragement, making it easier to overcome setbacks or frustrations.

Resource Sharing:

From sharing gear like lenses and lighting to splitting the cost of photo editing software, a photography buddy can help you access resources you might not be able to afford or utilize alone. For example, you might be missing some needed

equipment for your upcoming product shot

and would really make great use of a macro lens – there comes your friend to give a helping hand!
Tips on Finding Your Ideal Shutter Buddy
Here are the main things to look for when choosing a shutter buddy:
1. Identify Shared Interests
Look for a photography buddy who shares your specific interests, whether that's landscape photography, portraiture, or travel photography. 
This ensures that you both get the most out of your shooting sessions. For instance, if you're passionate about wildlife photography, partnering with someone who's into architectural shots might not be the best match.
2. Skill Level Compatibility
Sometimes, it can be beneficial to pair up with a more experienced photographer, but make sure the skill gap isn't too large. Both parties should feel they're gaining something from the partnership.
3. Location and Availability
Logistics matter. Consider your schedules and locations to make sure you can meet up regularly.
TIP: You can also use photography community websites or apps like Meetup to find photography groups in your local area. This way, it can be easier to find someone who can match your availability and location.
4. Set Clear Goals and Expectations
Be transparent about what you want to get out of the partnership. Are you looking to learn new techniques, or are you more interested in having someone to explore new locations with?
Go on a few shoots together to see how well you collaborate. Use this time to gauge your compatibility when it comes to working style, personality, and enjoyment.
How To Find Photography Friends
Here are the specific places where you can find your photo buddy and nurture your relationship further:
1. Join a Photography Club
Joining a camera club is a fantastic way to meet people who share your passion for capturing moments through the lens. Clubs often provide a structured environment that includes regular photography meetups, workshops, photo outings, and even exhibitions. This setting allows you to improve your skillset and network with photographers at various levels – from amateurs to professionals.
So go find a camera club near you, as most cities have them.
Beyond improving your photography skills, the photography community aspect of these clubs offers a chance for true camaraderie. With time, some of these acquaintances can evolve into lifelong photography partners.
Note: Photography clubs often have ties to local events and institutions, granting you access to unique shooting opportunities. For example, you might be able to shoot at a local festival as an official photographer or gain special entry to museums for photo sessions.
Enrolling in a specialized photography class lets you hone your skills under the tutelage of an experienced professional. These courses often offer lessons that range from the basics to advanced topics like composition, personal style, and post-processing.
When you enroll in a professional photography class, you're not just signing up for instruction; you're entering a photography group. 
As you learn and grow, so do your classmates, creating a natural setting for friendships to flourish over a shared learning journey. Your instructor and classmates can also offer valuable critiques that help you grow.
3. Write a Message to a Photographer
Reaching out directly to a photographer whose work you admire can be intimidating, but it's also one of the most direct ways to find a mentor. You'd be surprised how often professionals are willing to offer advice or even invite you to join them on a shoot.
A mentorship isn't merely transactional; it can evolve into mutual respect and friendship. Being personally connected with someone you admire in the field can lead to a long-term photography companion who guides and challenges you.
TIP: Leveraging Instagram's tagging functionalities can effortlessly connect you with photographers who frequent the same locations as you. By entering your location on the search field, you can explore photographs captured in that area or delve into hashtags associated with neighboring towns and cities.
4. Join Facebook Photography Groups
Photography groups on Facebook and are a treasure trove of resources, advice, photography talk, and potential partners. Whether you opt for local online photography groups to facilitate physical meet-ups or an international one to gain diverse perspectives, the options are nearly endless.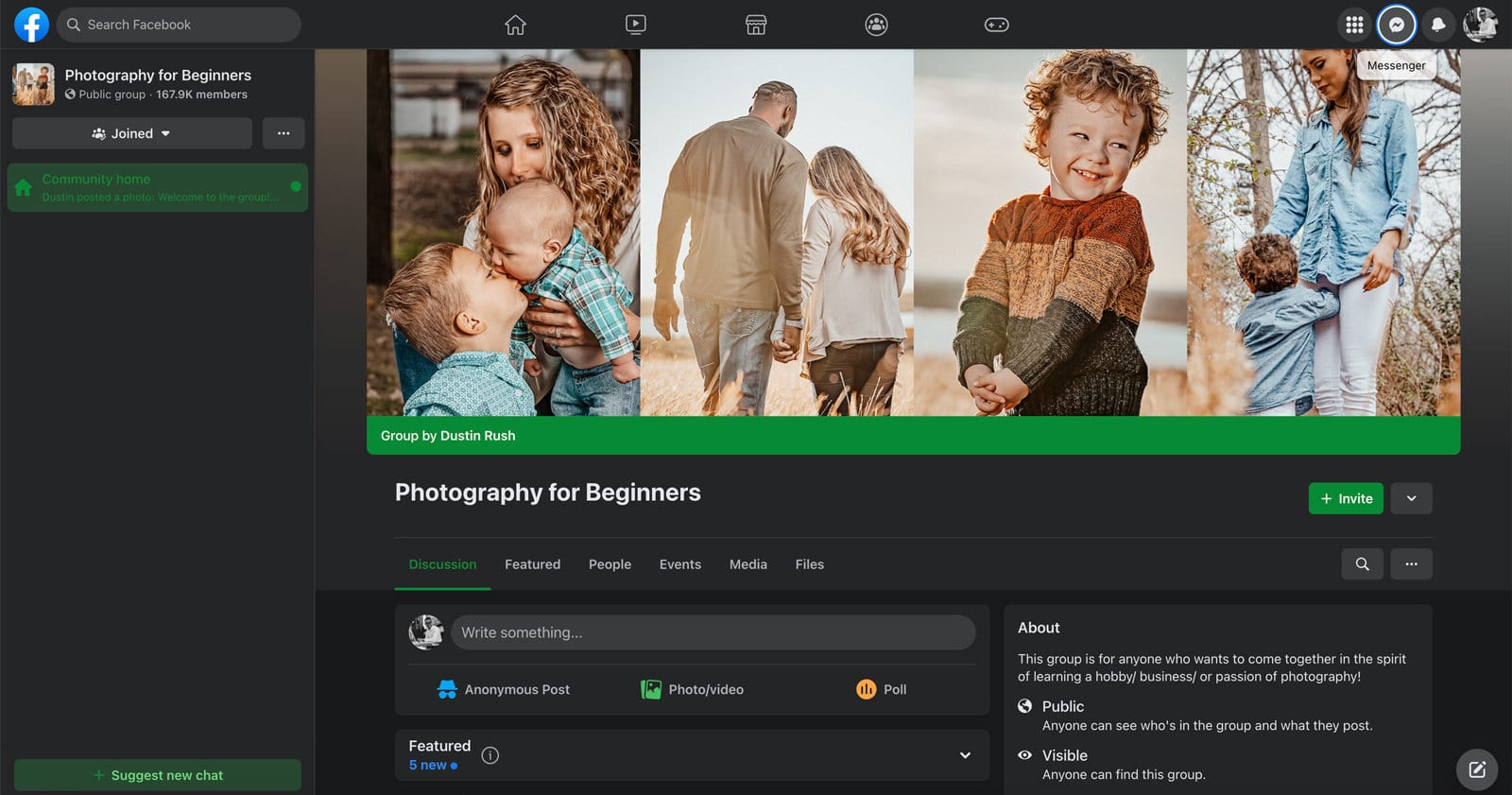 Some groups are specialized—such as those catered to wedding photographers, landscape photographers, portrait photographers, or even specific brands of camera gear (like Fujifilm subreddit I mentioned above). 
By joining online photo communities, you can quickly find people who share very particular interests with you, making for a more enriching exchange.
An online photography community offers a unique way to form connections that can eventually move from the digital realm into the real world.
5. Join a Discord Channel
Discord channels are increasingly becoming popular venues for specialized communities, including fellow photographers. Unlike traditional forums, Discord allows for real-time conversations, making the experience more interactive and immediate.
Discord channels often host live events like Q&A sessions with experts, photo critiques, or even editing battles. These activities can rapidly deepen relationships. 
And those real-time dialogue allows friendships to evolve more quickly, and before you know it, you may find yourself planning photo outings with your new-found friends.
6. Participate in Reddit Photography Subreddits
Because participants range from novices to seasoned professionals, you can find many perspectives and skills, making it easier to find someone who matches your interests and expertise.
These meaningful exchanges on photography forums can facilitate more profound connections, offering a fertile ground for relationships that can grow beyond the platform and into real-world photography partnerships.
Participating in a community photo walk isn't just about improving your portfolio; it's also about forming connections as you wander and capture images. 
Shared experiences like these have the power to bond people quickly. The act of exploring and capturing new places naturally breaks down social barriers and encourages dialogue. 
You can find these walks organized by local photographers or even on platforms like Airbnb Experiences.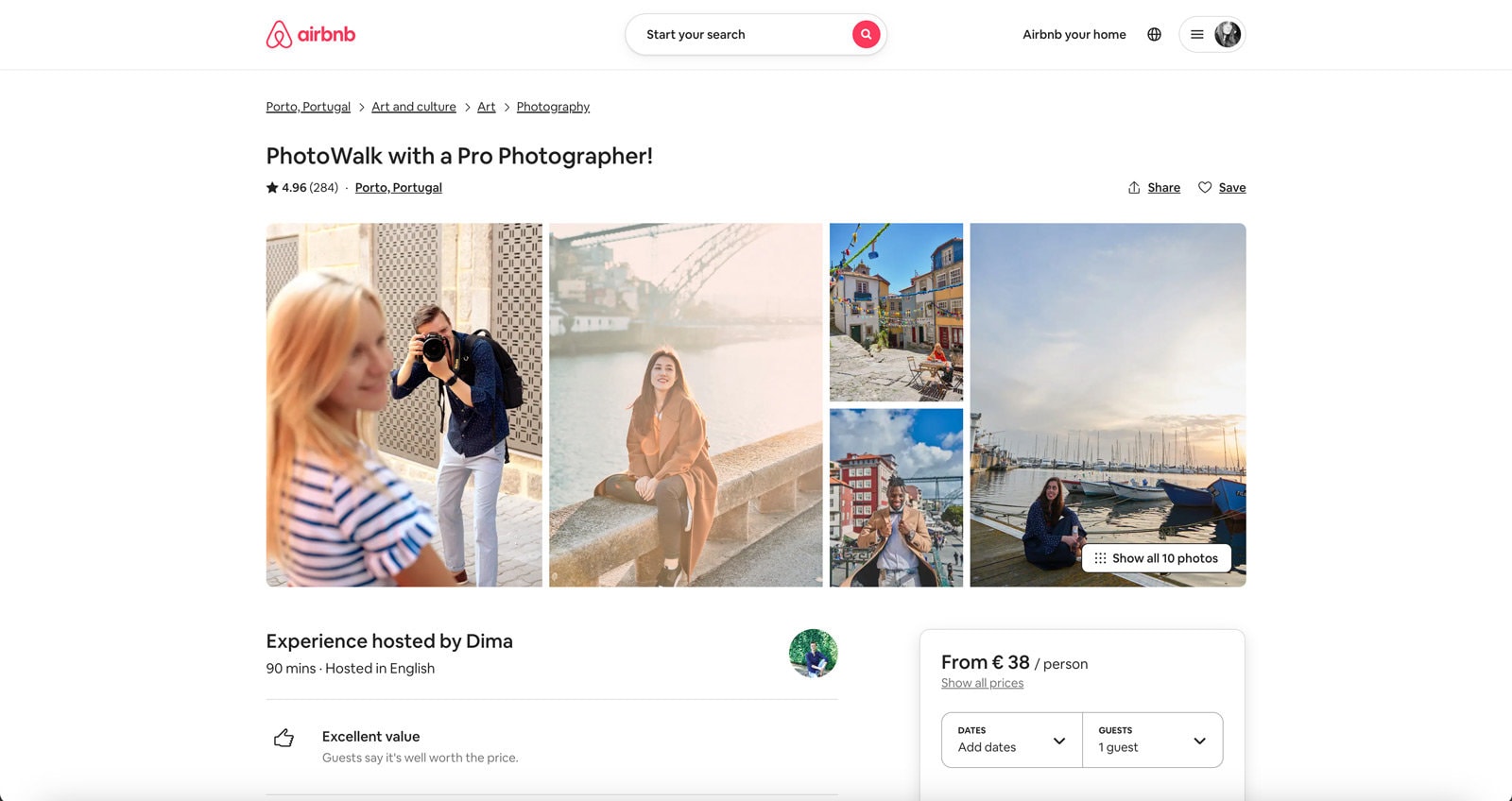 During these events, you explore specific locations, capturing them through your lens while sharing tips and tricks with fellow participants. Photo walks often also lead you to hidden local spots you might not discover otherwise.
Look for someone who complements your skills and creative vision. The ideal partner should be someone who can provide constructive criticism and also take it, someone who is reliable, and someone who is as passionate about photography as you are.
A photography partnership can definitely extend into business ventures. Many successful photography studios, online courses, and exhibitions often result when two or more photographers pool their skills, resources, and networks. A like-minded Shutter Buddy can help you transform your passion for photography into a profitable enterprise.
A dedicated photography partner or Shutter Buddy can add dynamic value to your portfolio. Through constructive criticism and collaborative shoots, you'll be exposed to new perspectives and techniques that can elevate the quality and diversity of your work, making your portfolio more attractive to clients and agencies.
Finding a photography partner can transform your creative pursuits, offering you companionship and a valuable exchange of skills, perspectives, and resources.
And there are multiple channels available for you to find that ideal 'Shutter Buddy.' These relationships will also offer you personal rewards that enrich your photographic journey. 
So why wait? Your perfect photography partner could be just a click, a class, a photo forum, or a photo walk away. To ensure you prepare well before sharing your passion, have a look at all the available OhMyCamera resources.