If you're a product photographer, then you know the importance of using hashtags to increase your post exposure. Not only do Instagram hashtags help people find your photos, but they can also attract new subscribers to your account. 
In this blog post, we will list the 24 best product photography hashtags that you can use on Instagram and other social media platforms to get more eyes on your work. We will also go through the most common questions related to hashtags and provide you with some actionable advice on how to use hashtags more effectively.
What are The Best Product Photography Hashtags in 2022?
Below is the list of the best product photography related hashtags that you can copy and paste into your posts on Instagram, Pinterest, and other social media platforms to get more exposure:
#productphotography #productphotographer #photography #photooftheday #commercialphotography #productphoto #studiophotography #stilllifephotography #lifestylephotography #productphotoshoot #productshot #studiolight #advertisingphotography #advertisingphoto #studiophotographer #fstoppers #productphotodaily #productstyling #ecommercephotography #lightingsetup #instaphotigy #advertising_photography #iso100_adv #productphotodaily #advertisingphoto
If you are interested in the popularity of these most popular hashtags for product photography, below is the table that shows the number of posts for each hashtag on Instagram in 2022:
Maximize Your Profit: How Much to Charge for Product Photography
As a photographer, you may often wonder how much to charge for product photography services? In this post we will help you answer this question.
Top 10 Product Photography Hashtags on Instagram
Below is the list of the top hashtags for product photography to help you boost your Instagram posts:
#photooftheday #photography #lifestylephotography #studiophotography #creativephotography #productphotography #stilllifephotography #commercialphotography #fstoppers
Now that you've discovered the top Instagram hashtags for product photography, let's talk about how to use hashtags to grow your Instagram account.
What are Product Photography Hashtags and What Do They Do?
Instagram hashtags are user-made keywords that are used to categorize photos on the app and make them searchable.
Many Instagram users are using hashtags incorrectly by adding irrelevant hashtags to their photos or trying to add context to their photos with irrelevant hashtags.
To get the most out of hashtags, you must concentrate on their primary purpose: assisting people in finding images associated with the hashtag.
How Many Hashtags Should You Use On Instagram?
You may include up to 30 hashtags on a regular post, and 10 hashtags on a Story. If you try to cram in too many, your comment or caption will not appear. That said, it's incorrect to think that because you can use that many hashtags for Instagram, you should. There is no correct number of hashtags for Instagram, but using too many hashtags can make your caption or comment appear spammy.
When it comes to Instagram hashtags, using a mix of popular and niche-specific hashtags will help you reach your target audience while also attracting new followers. We suggest using between 10-15 hashtags per post, including a mix of popular and niche-specific hashtags.
If you're not sure which product photography hashtags to use, start by brainstorming a list of words and phrases that describe your work. Once you have a list of potential product photography hashtags, try searching for each one on Instagram to see how popular it is. If a hashtag has millions of posts, it's probably too popular to be useful for promoting your product photography. On the other hand, if a hashtag has very few posts, it's probably too niche and won't attract new followers to your account.
The best product photography hashtags are those that strike a balance between being popular enough to attract new followers and being specific enough to reach your target audience.
How to Raise Prices for Existing Product Photography Clients
Maximize earnings with these proven strategies for increasing prices for your product photography clients, without losing trust or business.
Should You Use Different Hashtags For Every Post?
It's tempting to simply repeat the same set of hashtags on each Instagram post, but don't do it. The community standards on Instagram prohibit "repeated comments or material." If you repeat the same hashtags for every post, the algorithm might penalize your content and you will see lower engagement on your posts.
A better way is to mix things up, we suggest using a combination of popular product photography hashtags and niche-specific hashtags that are relevant to the product you're photographing. For example, if you're photographing a pair of shoes, you might use the hashtag #productphotography as well as more specific hashtags like #shoephotography or #sneakerphotography.
By using a mix of popular and niche-specific product photography hashtags, you can reach a wider audience while still attracting followers who are interested in your specific niche.
Remember, it's not about how many people see your content; it's about who sees it. That is how hashtags lead to more interaction and followers.
How To Find Popular Hashtags for Product Photography on Instagram?
Instagram does not publish a list of currently trending hashtags, as Twitter does. However, if you search for a hashtag on Instagram, you'll see how many posts use that specific hashtag.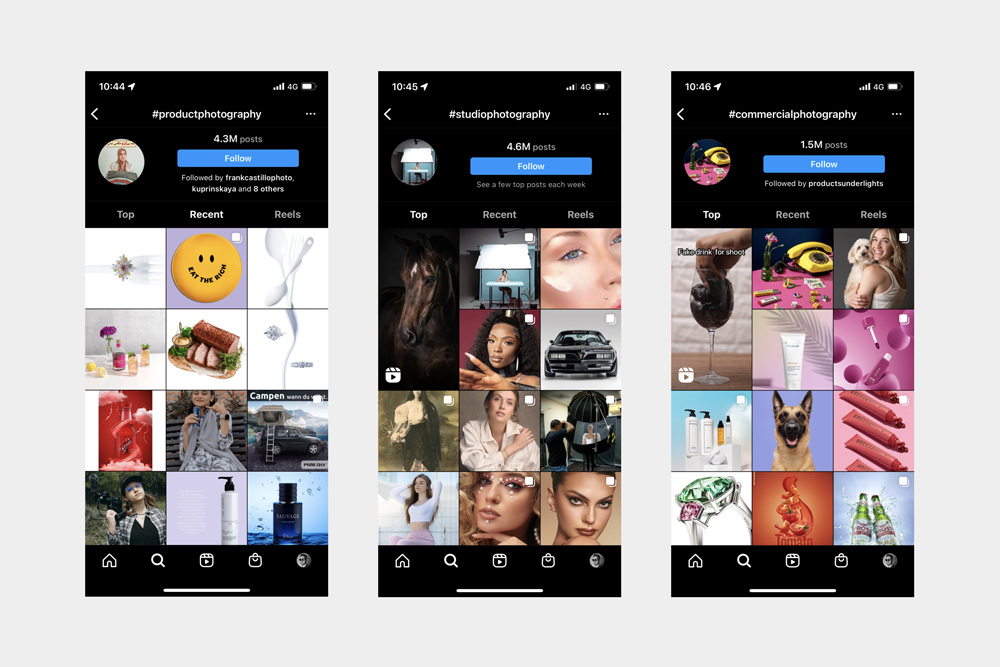 On the desktop, put the hashtag including the # symbol into the search box to find a hashtag and a number of posts that use it. On mobile, tap Tags after entering your search term in the search box.
Remember, don't try to quickly jump on a trending hashtag unless it is relevant to your post. Instead, try to utilize hashtags that are relevant to your posts.
Don't Forget to Add Hashtags to Your Instagram Stories
There are two options for adding hashtags to your Instagram Stories. The hashtag sticker is the first one to use. Alternatively, you may utilize the text tool and # symbol to construct a hashtag in the same manner as on a photograph or video post.
How To Hide Hashtags From Your Instagram Post
If you are using a lot of hashtags in your Instagram posts, it might be a good idea to hide them to prevent your Instagram posts from looking spammy. In order to hide the hashtags, you can simply remove them from the post description and add them as the first comment under your newly publish a post. This way your hashtags won't be visible in the photo description, but they will still be seen by the Instagram algorithm. This is a good way to manage your hashtags in your daily posts.
To Sum Up
In this blog post, we discussed the best hashtags for product photography, why you need to use them in your posts, and how to do it properly to grow your Instagram profile. If you found this blog post helpful, please share it with your followers, and be sure to check out our other blog posts on product photography:
Don't forget to subscribe to our weekly product photography newsletter where we share useful articles, tips, and tricks that will help improve your product photography skills as well as help you get a steady stream of new clients for your product photography services.